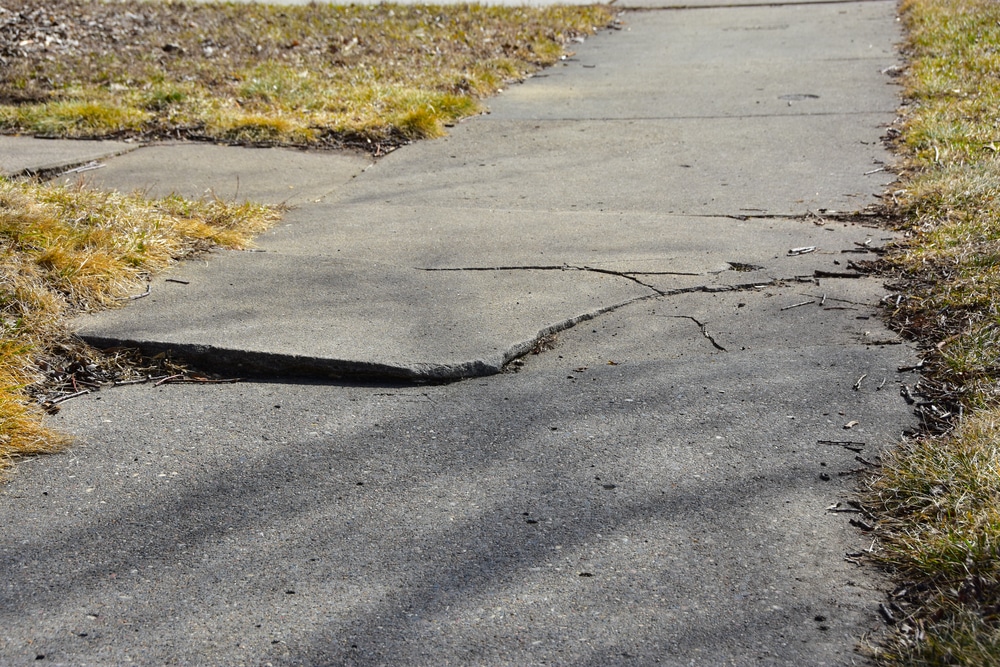 Your Businesses is Liable for a Cracked Sidewalk
A step on a crack can break your business' back. That's not how the rhyme goes, but you could run into some problems if you do not attend to a damaged sidewalk outside of your business.
Your business' parking lot, pathway, or sidewalk may have nothing to do with your operations, but if it is broken, you are increasing the risk of an accident for your customers and employees. This could lead to personal injury cases and potentially cripple your business financially.
The Liability of Having a Cracked Sidewalk Outside of Your Business
Avoid these consequences by hiring K&E Flatwork LLC's concrete repair services in Kansas City. Investing in fixing your sidewalk is more cost-efficient than the huge costs that can come from medical bills, legal fees, and other settlements injured parties demand.
Understanding Personal Injury and Kansas Law
Under Kansas' personal injury law, a person may file a case against another person or entity whose negligence, actions, or inactions caused harm. If you leave your sidewalk broken, you may be ignoring the risks others face. If someone should trip on the cracks and procure injuries, they can prove your business' negligence, and you might be liable for all their medical bills. If the injury caused emotional trauma or left the person incapable of earning, you may have to pay for other reparations.
Chapter 60 of the Kansas Statutes states that injured parties have two years to file a lawsuit. Non-economic damages such as emotional stress, pain, and suffering can range from $325,000 to $350,000. This does not include medical treatment, lost income, and other economic damages.
Kansas Law also uses a comparative fault rule. In some accidents, the injured party may be partially at fault. The court determines how much at fault they are and will subtract it from the amount you have to pay. If the injured person can prove your business is more than 50 percent at fault, you have to pay for the damages. However, if the court finds the injured party more than 50 percent at fault, it could prevent them from collecting any money.
Injured Employees and Compensation
If your employee trips on your sidewalk and it is not the first time someone got hurt because of it, or if many people have already brought the sidewalk's risk to your attention and you didn't act on it, you could be liable for failing to address a dangerous condition.
The safest action is to give the victims immediate medical attention, file a claim for insurance and worker's compensation, then file and monitor an employee's report of the incident.
If your employee accepts the workers' compensation, they give up the right to sue for personal injury. However, if they feel like they will receive more compensation under a personal injury lawsuit, they may file a case against your negligence.
The same action applies when a customer trips on your sidewalk. Seek immediate medical attention and follow your company's protocol on injuries. Collect evidence on the incident and inform your insurance company and your attorneys.
Keep Your Business' Sidewalk Safe
The dollars you save by choosing to do nothing may be significantly less than the expenses you will incur fighting a personal injury claim against your business. You could put up a caution sign or block off the broken area with rope, but these are temporary solutions to a dangerous business risk. Concrete is a sturdy material, and that crack is not going to go anywhere until you address it with concrete repair services.
K&E Flatwork LLC serves Kansas' commercial concrete needs. We work with fellow industry leaders to provide our clients with superior service and the best possible outcome for our projects. Choose us for all your concrete needs.
Contact us today for a free estimate.