Concrete Repair and Replacement Services
As a leading provider of concrete repair and replacement in Kansas City, we are equipped with the latest materials and processes to make sure that your concrete structures are in great shape, particularly for roads and buildings that have started showing signs of damage.
Although concrete is one of the most durable, economical, and versatile materials in the building industry, damage from water leaks and adverse weather conditions like the occasional tornado can chip away at concrete. Avoid accidents and structural deterioration by seeking immediate concrete repair in Kansas City.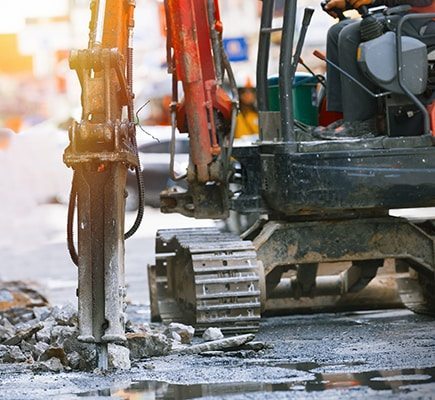 Why Does Concrete Need Repairs?
Deteriorating concrete structures can pose risks. Apart from compromising the structural integrity of the building, it can lead to waste and disposal problems, higher replacement costs, and create a safety hazard for workers. Some of the reasons why concrete requires repair include the following:
Rebar corrosion: Some concrete structures use reinforcing bar supports for better concrete protection. Exposure to excess carbon chlorides or carbon dioxide can cause the rebar to corrode. This will cause the concrete surrounding it to crumble.
Alkali-silica reactions: Concrete contains chemical reactions because of the chemical properties of some aggregates. The alkaline cement reacts with water and forms a gel which can cause pressure and lead concrete to develop dangerous cracks.
Freeze-thaw deterioration: Concrete that lacks air-entraining admixtures can break down and cause problems over time. The concrete becomes saturated with water which makes it expand and crack when it freezes.
Repairing your damaged concrete is possible. At K&E Flatwork, we offer concrete repair services in Kansas City. We repair and replace a range of concrete structures and protect them from the damage caused by corrosive elements. By working closely with our clients during the process of diagnosis, repair, and replacement, we come up with a solution that guarantees long-term durability.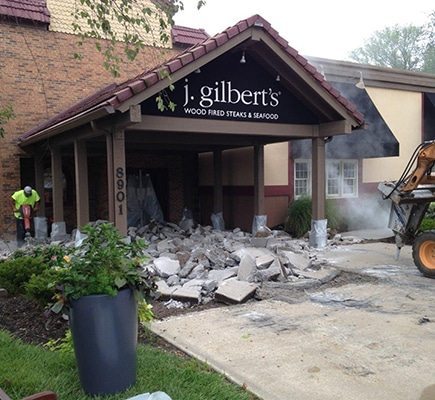 Our Concrete Replacement Services
Depending on the issue, some parts of a damaged concrete structure might require our concrete replacement services. We understand that a complete concrete removal and replacement project may not be in the budget. For concrete replacement in Kansas City, contact one of our Project Managers, and we'll help develop the right scope of work that fits your budget and your schedule.
Flatwork Repair Solutions for Parking Lots
At K&E Flatwork LLC, we don't exaggerate when we say that a damaged parking lot can hurt your business. Besides lowering your property's curb appeal, parking lot damage can result in accidents and injuries that may end up being very costly. Hire a skilled contractor to do a complete parking lot repair or replacement for your commercial site, and you can avoid parking dilemmas.
As a leading concrete paving company in Kansas City, K&E Flatwork LLC uses the latest techniques and materials to create safer parking lots for your business. We also understand that these projects can be expensive, so our project managers are here to help you find a cost-efficient solution for your damaged parking lot.
Why Choose K&E Flatwork for Concrete Repairs?
At K&E Flatwork, we strive to provide innovative, superior, top-quality services to our clients. Our goal is to strengthen our communities by giving opportunities to people while providing safe concrete repair and replacement services that our clients will appreciate for decades. Our staff is comprised of Kansas City residents, which means that every project is done by people who care about the city and its buildings.
Through the constant optimization of our business and product delivery processes, K&E Flatwork is able to deliver high-quality work within our client's schedules, and we've been doing so for over a decade.