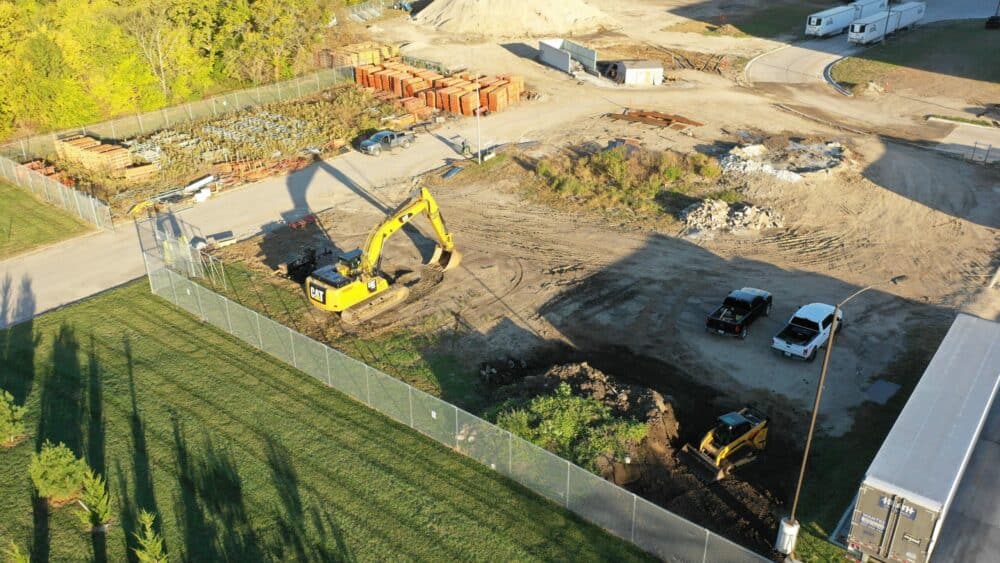 Learn About One of K&E Flatwork's Largest Concrete Replacement Projects Yet!
K&E Flatwork recently completed a large scope of concrete removal and replacement: a 180,000 square foot semi-truck parking lot for a Kansas City-based food distribution warehouse.
This was the third of five phases that were scheduled over the course of five years, totaling over 500,000 square feet of concrete paving replacement and sitting on top of ten inches of cement-stabilized soil (with incorporated drainage tile as required).
This particular client had been struggling with consistent concrete repair and maintenance for several years and wanted to start over with a clean slate. Potholes, cracks, and overall concrete failure were causing damage to their distribution trucks, as well as their clients' trucks, and posing a safety risk to the drivers themselves who have to walk from their trucks to the receiving and shipping office to fill out paperwork.
These issues help illustrate the necessity for preventative maintenance when it comes to truck parking lots. Water can penetrate the smallest cracks, weakening the foundation and sub-base and deteriorating the concrete, which is why it's critical that your truck parking lot has a drainage system that directs the flow of water when it rains and snows.
Prior to the start of any project, no matter how large or small, we visit with the client to determine their needs, the problems we have to solve, and any logistics issues that may arise. This is crucial to establishing an accurate budget that is relevant to their operation. Most of our customers cannot simply halt their business operations while we repair or replace their concrete, so we work around their schedule to ensure that we don't get in their way.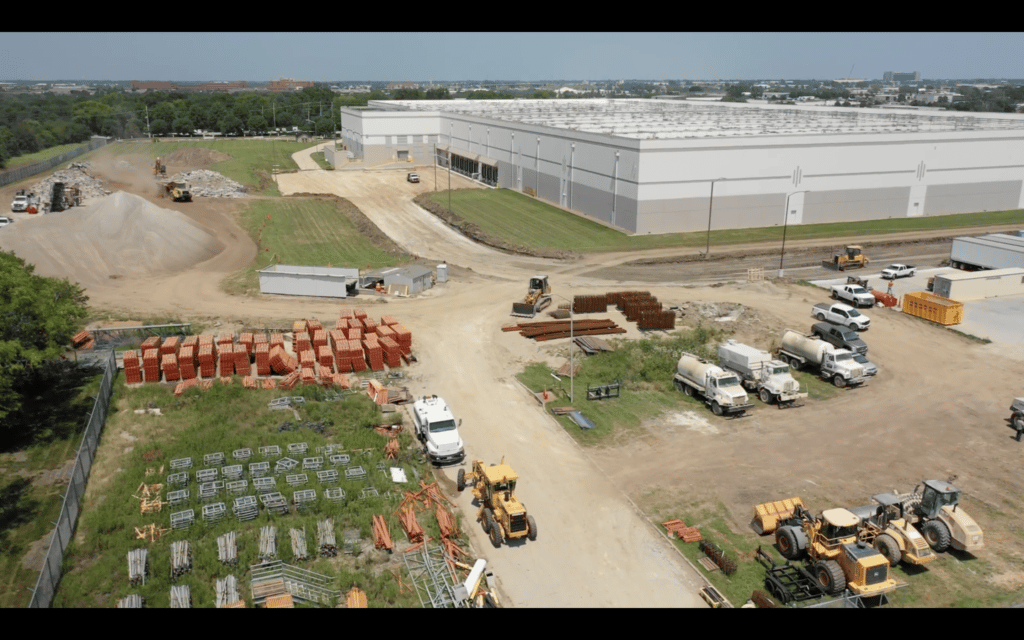 For instance, this project took several months to complete, so removing and replacing all the concrete in one fell swoop was out of the question. We decided to approach it section by section so the client could go about their daily operations by utilizing any part of the truck parking lot that wasn't curing or we weren't currently working on.
Tearing up and replacing an entire parking lot is a monumental task, but even still, our customers don't have to worry about us getting in their way. The last thing we want to do is prevent you from doing your job, which is why we are eager to accommodate each customer's individual needs.
We also worked with the customer to establish a realistic budget before we begin the project. This requires that we do our due diligence and determine precisely what the project requires.
For example, with this particular project, we deemed it necessary to collaborate with third-party geotechnical, structural, and civil engineering firms to design construction specifications and perform soil stabilization (the process of transforming the physical properties of the soil beneath the concrete to provide additional and long-lasting strength for the truck parking lot). We also subcontracted other scopes, such as striping, sealing, excavating, and landscaping.
While we can perform some of these associated trades, given the size of the project, we determined that working with third parties and subcontractors was the most efficient and cost-effective solution for the client. It's critical that we communicate this to them before the project begins so that they receive an accurate representation of what the project requires and how much it will cost and how long it will take. Transparency and honesty are everything to us.
Of course, it's impossible to predict every possible scenario. We discovered water issues after the project was already underway, leading to the creation of an alternate construction specification. However, these issues did not delay the project, thanks in large part to proper planning and forethought.
When performing large-scale concrete replacement, we typically recycle the original concrete using a process called "crushing." Due to the incredible scope of this project, we were able to recycle over 9,000 tons of concrete, which otherwise would have ended up in a landfill and led to pesky dump fees. We were actually able to reuse around 7,500 tons of this crushed material for the new sub-base beneath the parking lot, eliminating the need for mining efforts.
Despite the size of this project, the entire job went off without a hitch. We were able to quickly and efficiently overcome the obstacles that threatened to hinder our work; we finished the job on schedule and without interfering with the customer's daily operations. The client was incredibly happy with our work, and we are very proud of our team for a job well done.
If your business is in need of concrete replacement services, you can expect the same dedication, professionalism, and craftsmanship that we bring to all of our projects, no matter how large or small they may be. We'll start by discussing your business's needs, and then we'll create a schedule that works with yours. A thorough examination of your property will determine the scope of work and help us create an accurate representation of the final cost. All you have to do is say the word!
Interesting Stats from This Project!
9,507 tons of recycled ("crushed") concrete (792 semi-truck-loads)
388 tons of cement stabilization in the soil
123 semi-truck-loads of export (unsuitable soil, trash, and rock that had to go)
2,665 linear feet of 6-inch perforated pipe installed inside clean rock to mitigate water issues
13,200 linear feet of 1-1/8-inch dowel baskets
Approximately 130 tons of 1/2-inch reinforcing steel
Approximately 5,000 cubic yards of concrete
Approximately 6,800 man-hours
Reach Out to K&E Flatwork for Dependable Parking Lot Replacement Services!
K&E Flatwork is Kansas City's number one choice for reliable and high-quality commercial concrete repair and replacement services, no matter the size or scope of the project. It only takes a single phone call or email to get us out to your property and receive a free quote. You can reach us at (816) 416-6998 or woody@keflatwork.com. We look forward to working with you!