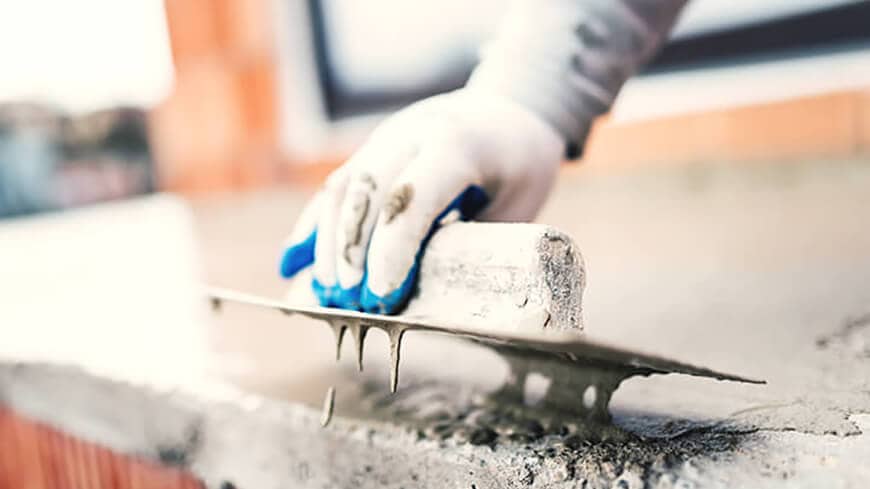 How to Permanently Repair Cracks and Surface Imperfections in Concrete
Concrete floors are made to undergo constant abuse from heavy traffic, so it is imperative that the floor is poured and installed properly or it will run a higher risk of cracking. As we all know, nothing lasts forever and even the best concrete is not made to withstand years of wear and tear, especially in commercial and industrial applications.

Commercial flatwork, concrete especially, takes more abuse from vehicles, individuals, and the elements, than your standard residential applications. For this reason, contractors turn to specialty coatings, aggregates, and reinforcing schemes to meet the heavy demands and requirements of buildings.
There are a number of reasons concrete cracks, and for the most part, the fracture is merely an eyesore. The damage may not immediately mean a structural defect, unless the separation occurs vertically or horizontally, revealing a potentially unstable sub-grade. Either way, eyesore or safety hazard, it's always a good idea to have an expert out to take a look and let you know what you're dealing with and what the options are.
Reputable concrete repair company, K&E Flatwork, knows the causes behind cracks and works expertly to prevent these potential problems during installation.
Find out how to repair cracks in concrete to ensure a durable, seamless surface for the years to come.
Probable Causes of Cracks in Concrete
1. Lack of or Incorrect Spacing of Control Joints
Control joints, also known as planned cracks, are intentionally placed to allow movements caused by changes in temperature and drying shrinkage. A good contractor should know where to place joints and where cracks are likely to occur.
2. Improper Concrete Strength
A bad concrete pour may lead to the failure or deterioration of concrete. Concrete comes in a variety of strengths to meet the demands of various applications. The contractor should know how to choose which product has the right strength, workability, shrinkage, and permeability for each project.
3. Poor Soil Conditions
It's acceptable to pour flatwork on native grade, where soil conditions are ideal. But in cases where a sub-grade or sub-base is required, the soil should be compacted and backfilled for the concrete to settle properly. Contractors should never pour concrete on frozen ground, as well. When contractors ignore these requirements, there is a possibility that the slab will crack.
Other construction oversights that may induce cracking are movement of formwork, incorrect placement of reinforcing steel, improper curing and compaction, and errors during curing and final finishing operations. Failure to take the necessary precautions will ultimately result in cracks and serious damage.
4. Excess Water
Water is an important ingredient in mixing and pouring concrete. But not understanding how water reacts with cement will lead to structural problems. Due to the porous characteristic of concrete, the material expands and contracts when temperatures fluctuate. Too much water also reduces its durability and strength. When added during finishing, it could result in crazing, scaling, or dusting.
A reputable contractor should know how to make a proper mix. When the proper ratio is not followed, the final slab is likely to crack over time. In some areas, ambient relative humidity may also have an influence on the movements of concrete.
DIY Solutions for Damaged Concrete
You will find plenty of concrete products in the market today, giving you quick and inexpensive options to remedy cracks, voids, and flaking.
Here are some examples:
Epoxies for Crack Injections
An epoxy crack injection is a quick fix for localized damage. They come in various viscosities to accommodate cracks of different widths. Prized for their exceptional compressive strength, epoxies are a popular choice for fixing cracks that call for structural repair. But it may not be the best solution if the crack is leaking or if the crevice is too deep.
Sealing Cracks with Polyurethane
Polyurethane foams are useful when materials are leaking out of the crevice.  Polyurethane injects are fast-setting, elastomeric, and waterproof foams that quickly harden and stay intact within the void. While these foams take minutes to settle and harden, and easier to work with than epoxies, they add zero compressive strength to the material. This is why contractors use polyurethane mostly for residential applications.
Urethane Caulk to Keep Water Out
It's important to seal the gap right away to keep water out and protect the foundation of the flatwork. Filling gaps with durable urethane caulk is a popular option. It is practically easy to acquire and apply. These fillers are also long-lasting and they help prevent the flatwork from further cracking and eroding.
Note that these concrete crack fillers and sealants are chemical-based. Wear gloves, glasses, and protective clothing when working with these products to avoid inhalation, and skin and eye contact. Take the time to study the drying time of the material, how and where to apply it, and what type of materials you need to achieve the desired outcome.
Replace or Repair?
Quick, DIY fixes are less expensive compared to new flatwork. And with so many options available, there are ways to restore the strength and aesthetic appearance of concrete surfaces. But keep in mind that the solutions listed above are merely Band-Aid fixes for minor issues and may not work for everyone.
In some instances, deep cracks are merely a symptom of a more serious structural issue. A DIY solution is not going to resolve that complex problem.  You need to know the extent of the damage and consult with a professional to avoid further costs and ensure safety.
Worn out surfaces or even minor issues can create real safety risks and liability. If taken lightly, it might jeopardize the entire integrity of the structure. If the amount of cracking or curling is unmanageable, you may want to consider professional concrete crack repair.
For expert replacement, contact K&E Flatwork, the largest concrete repair company in Kansas City.